From prototype to mass production
Synergy Technology designs mechanical elements, including electro-mechanical and opto- mechanical components. Our experience with a variety of materials and manufacturing processes means each design is optimized for the efficient use of material and fabrication technique.
Synergy produces drawings with CAD (Computer-Aided Design) to ANSI, ISO and other industry standards, applying geometric tolerances as appropriate. We manage revision control and maintain documentation archives for our clients.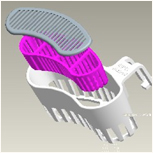 Areas of expertise
Mechanisms
Electro-mechanical design
Opto-mechanical design
Plastics
Metals
Injection molding
Machining
Stamping
Thermal forming
Sheet metal fabrication
Castings