PCB design that is optimized for your system
Synergy Technology specializes in understanding the unique electrical, mechanical and thermal design criteria involved with the design of a P.C. board. Whether your project requires multiple, complex P.C. boards or a single P.C. board, we have the knowledge and expertise to ensure a quality product that meets the design, performance and manufacturability requirements.
We approach PCB design as an integrated project. To deliver a cost-effective product, we consider the entire design, including the P.C. board, wiring, integrity, cosmetic appearance of the enclosure and the selection of the components, materials and processes.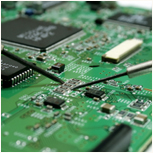 Areas of expertise
PCB layout
Schematic capture
PCB footprints
Thermal design
Wiring and interconnection
Enclosures
Components