Sports bottle filtration system
Synergy designed multiple products including this unique sports bottle with an integral filtration system. Synergy also supported the manufacturing implementation and provided engineering support throughout the lifecycle of the entire product line.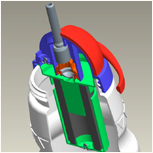 About the client
Based in Denver, Colorado
Produced multiple carbon/polymer-based filter elements for retail and private-label brands
Retained Synergy as its engineering department on a turnkey, on-demand basis
Success eventually led to acqusition by a larger enterprise
Synergy expertise utilized
Product design
Mechanical design
Product lifecycle management
Solid modeling
Synergy enjoyed a very long working relationship with this client that ended when the company was acquired and our services were no longer needed. Synergy's on-demand service model was an ideal fit for the intermittent nature of the client's engineering needs.