Cashless gaming ticket printer
This first generation printer started an industry trend virtually eliminated the use of coins for slot play and revolutionized the gaming industry. Synergy worked from inception to bring this idea to reality.
Prior to the advent of this system, very limited success and utilization of cashless schemes existed in the market. This approach, using printed tickets in place of traditional currency, revolutionized the gaming industry, virtually eliminating the use of coins for slot play, resulting in its own multi-billion dollar industry. This printer was the very first in a new product category. Today, similar printers are manufactured by numerous big name players in the printer market.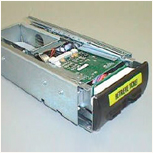 About the client
Based in Reno, Nevada
Initially engaged Synergy to provide entire engineering departmental function
As organization grew, Synergy's role evolved to support the in-house engineering department
Synergy expertise utilized
Product design
Electronic design
Mechanical design
Solid modeling
PCB design
Synergy enjoyed a very long working relationship with this client that ended when the company was acquired and our services were no longer needed. Synergy's on-demand service model was an ideal fit for the intermittent nature of the client's engineering needs.